An Accord of Comfort...
Much of the science behind engineering technology remains cloaked in uncertainty, but it is sure to become an important part of future developments. Today, environmental concerns cast a huge impact on all aspects of commerce. Improvements in comfort and safety arise from a continual process of interaction between innovative designers and technologists. This process embraces the best practices from all the branches of science and technology, bound together by quality. Devi Technocraft Pvt. Ltd. acquires a significant position in the engineering sector as a distinguished manufacturer, supplier and exporter of Ice Cream Making Machine, Softy Making Machine, Softy Cone Making Machine & Shake Master. We also offer the repairing services of Fast Food Parlours; all types of Softy Ice Cream Machine, Softy Ice-Cream, Softy Vending Machine, Frozen Yogurt Machine, Thick Shake & Slush Machines; Refrigeration System and all types of Ice-Cream Display Cabinets.
Our renowned name is backed by a group of experienced and talented personnel. Under their supervision and diligence, our designs and development of machines/instruments are at par with the imported process machines on quality basis. Although we are offering the highest quality level to match with the imported process equipments, we always see to it that the cost of our equipments are affordable to the small budget buyers. The performance features of our machines are at a room/ambient temperature of 36oC. This is in consideration to an average ice-cream run of 40% (gravity feed) and 70% (machine with pump).
We are recognized as an eminent manufacturer of Frozen Yogurt Machine, Hard Ice-Cream Machine, Topping Counter, Softy Ice Cream Machine, Softy Making Machine, Soft Ice-Cream Machines and Hard Ice-Cream Machine. And, now we are inviting you to meet us at AAHAR The International Food & Hospitality Fair-2019 from 12th to 16th March, 2019 in Stall no. H11-20I (Hall no.11) at Pragati Maidan, New Delhi.

Our Quality Mannerism...
We stand as a replica of trust when it comes to providing superior quality products with best competitive pricing. We keep a keen eye over the competitive advantages of quality assured products along with on-time delivery of the products. We follow strict international quality standards while striving hard for excellence. Our state-of-the-art manufacturing unit is complemented by fully equipped testing labs support to our cause.
Trait Marks of Soft 103, 103-B & 106 Machines...

Following is a glimpse of the features of our products:
Independent refrigeration to the tank ensures the mix is thoroughly chilled, both during production & during breaks
Specially designed beaters with self-aligning plastic blades for faster ice-cream dispense
Gear pump to give better quality & quantity of ice-cream
Environmental friendly "CFC Free Refrigerant" and "CFC Free Thermal Insulation"
The controls are easy to read and operate
The production cylinders have a direct expansion cooling system ensuring rapid operation
Soft 106 - 3 plus 1 choice: The system is optimized with 3 different flavours available at any one time, plus the option of serving the natural traditional product
Area below the dispenser head has been specially designed so that the recess allows the use of large diameter cups & cones easily.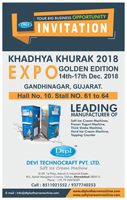 Read More